Dear Scott,
What is the proper pressure to inflate my tube to?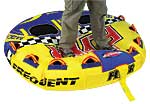 Under-inflation causes the tow tube to sit low in the water. Additional stress is applied to the tube, cover, rope and boat, by being dragged through the water instead of pulled across it. This stress causes the air in tubes to be displaced and the tube may rupture. This same stress causes nylon covers to tear and ropes to stretch. The boat cannot plane off and extra gas is consumed. In general, the tube is full when it is very firm. Covered tubes should be wrinkle free. An adult should be able to stand on the tube and only sink a couple of inches. Finally, it is not enough to simply fill it up and go! If you leave a full tube sitting in the sun for any length of time, it will expand. Either store it in the shade, or let some air out. Donít let it sit on the beach, dock, or boat full of air! At the same time, if it is stored out of the sun in a cool place, you may need to add air. Check and adjust inflation levels each time you use your tube. Youíll have more fun, and your toys will last longer.

Be safe and enjoy your day at the lake!