Current Specials:

This months Specials are: The FULTON Heavy Duty, Trailer Jack. Fast & Easy to use. 800 lb. Capacity. Made in the USA. Easy cranking, up to 25.3" of lift, mounts on ANY trailer up to 3" X 5" tongue, Zinc plated resists rust & corrosion, easy to install. 10% OFF retails for $52.95 YOUR COST $47.95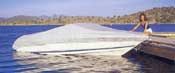 BOAT COVERS: Duragurad Boat Covers are made of pearl gray 10oz. 100% Cotton Canvas. They have long been the favorite in the marine industry because they are fade resistant, mildew resistant, and water repellant. Ranging from $172.99 - $249.99 depending on size.

Ultraguard Boat Covers are our most popular series, in a 10.5oz 65/35 polyester/cotton blend, it features a greater tear stregnth than pure cotton & also has superior UV resistance so the fabric lasts much longer in the sun. It is water repellant, fade resistant, mildew resistant, Heavy duty shock cord is sewn into the hem to ensure a SNUG FIT. Prices range from $177.99 - $289.99 depending on size.

CUSTOM COVERS & BIMINI TOPS AVAILABLE...

Parts & Accessories: Our Top Priorities are: our Customers, Quality Products and Services, & "Keeping You Safe On The Water." Ask Us First (before you buy). Let us be your Marine Parts & Accessory Advisor. Scott is an expert in the marine field, and in finding out what you really need. He can even be a pretty nice guy as long as you don't try to get him to fix your boat over the phone.

The Best, AC DELCO, Marine Battery, "The Voyager":
The maintenance free "DELCO, Voyager, Battery...Due to the weight & potential shipping charges, we do not ship our batteries. But we do recommend the best, the No Maintenance battery, The Delco "Voyager" which runs about $79.95


Battery Boxes, Straps, Cables, Terminals & Accessories Available...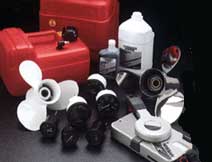 PROPS: Scott is very loyal when it comes to props. And it's really very simple. Michigan Wheel makes more kinds of props for more kind of boats that anyone, and makes them better. They've been at it for about 90 years. So no matter what you have in mind, cruising, waterskiing, fishing, whatever, Michigan Props are the way to go to give you what you need to match your specific performance needs. More combinations of metal, diameter, pitch and rotation are available from Michigan Wheel than any other manufacturer.

OMC & Mercruiser: OMC & Mercruiser Props are also available...(for those who want TOP QUALITY).

IMPELLERS: I feel compelled to list the FLUSH-RITE'S right here in the impeller section....I guess that's because I have seen so many burned up impellers, damaged by do-it-yourself mechanics who did not hook up water before they started up the boat...This week alone it happened twice on my block....The FLUSH-RITES are only $12.95 P/N 99087-10

There are so many impellers to choose from that Scott & I have decided not to list them all here. The good news though, is that we do carry a large selection of impellers here in the store, with literally hundreds to chose from. If we don't have it, we can order it and get it by the next day via UPS. The most common impellers range in price from about $13.95 to $30.95 depending on size & application.

Oil & Lubricants: Due to EPA restrictions, and outrageous shipping charges, we DO NOT SHIP, oil or lubricants to our customers. If you have any questions regarding products, mixtures, etc. please give us a call at (805)2FX-BOAT, or 239-2628................


Parts & Accessories Table Of Contents.....

(Please give us a call regarding any of the items listed below)......
Electronics, Instruments, Navigation, Lights, Safety.....
Anchoring, Mooring, Cordage, Hardware, Fasteners...
Steering, Controls & Cables, Heads, Pumps & Hoses...
Paint, Fiberglass Repair, Boat Care, Maintenance.......
Seats, Ladders, Pedestals, Bimini Tops, Accessories....
Covers, Tops, Windshields, Props, Trailer, Misc..........
(805) 2FX-BOAT, Just give us a call (805) 239-2628, or e-mail us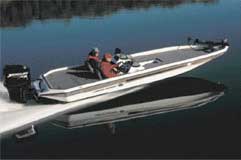 BOATS & MOTORS (for sale):

1985 Champion Bass Boat - This is Scott's own boat. 18ft Champion Bass Boat with 150hp Evinrude Motor. 1 24 volt trolling motor, 2 fish finders, 1 depth finder, lots of extras...This is a one of a kind find, great condition. $6,000 OBO

1984 Sea Nymph - 50hp Evinrude & Trailer. We checked this boat out & it is in Great Shape. Lots of extras, vests, tow, anchor, battery charger, running lights, oars, etc. $3,200 OBO

1984 Glastron Bowrider - This is a beautiful yellow Glastron Bowrider, with 165hp Mercruiser. This boat & engine is in excellent condition. We have serviced it over the past 6 years, so we know this boat & it's history. Trolling motor, depth finder, brand new bimini top, & new upholstery. Lots of extras, cover, etc... $4,500 firm

Free Willy Motor: 30hp Evinrude Motor - 1998 only has 40 hours on it. This motor was in the movie Free Willy. Great find at only $1,750

Coming Soon: approx. six 15hp Evinrude pull start motors. Call us to be put on waiting list.